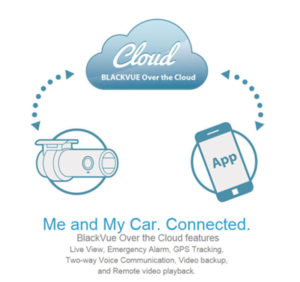 BlackVue's DR600 range of dash cameras has access to a feature called 'BlackVue Over the Cloud'. As the name suggests, they are using cloud technology. This is a feature that no other dash camera brand has, and is totally unique to BlackVue products.
How Does It Work?
The Blackvue cloud features use mobile or in-vehicle internet to connect the dash camera to the cloud. You then use the BlackVue app for IOS or Android to connect to the camera and use the features available.
What's New?
By using BlackVue over The Cloud you have access to a range of features that will put your mind at ease about the safety of your vehicle, whilst also allowing you to provide evidence of an incident quickly with no hassle. You are able to connect your camera to three SSID's, meaning that you can connect to your camera from three different locations without using your mobile data. These could be places such as your home, office or anywhere that has a Wi-Fi connection.
Alerts– Through the use of cloud technology you are able to be connected to your car at all times from anywhere. This means you are able to get alerts sent to your phone whenever an event occurs, so if there is an incident whilst you are away from the vehicle, you will be made aware of it almost instantly.
Tracking– You are able to track the camera's location through the cloud, allowing you to monitor the vehicle's location on a map. This could be particularly helpful if you own a business that does deliveries, as you can track the driver's progress.
Video Storage– All of the files that are created by your dash cam are able to be moved into the cloud or to an IOS or Android device, this ensures that your files are kept securely and are not overwritten. This is done through the BlackVue C app
Remote Access– You are now able to remotely access your dash cam and use live view and video playback without being close to your vehicle.
View the BlackVue DR650S-2Ch Product Page
How to set up the cloud
All cameras that have a QR code can register for 'BlackVue Over the Cloud' easily, all you have to do is go into the 'BlackVue C app', followed by 'BlackVue Cloud' and take an image of the QR code on yor camera. If you do not have a QR code, your camera may still be compatible with the cloud, just follow the instructions below to connect:
You will need to take a picture of the units serial number sticker, this is located on the box the dash camera came in.
You now need to take a screenshot of the MAC/SSID address of the camera. For IOS users this can be done by going into settings -> Wi-Fi menu and taking a screenshot of your device's name. For Android users go into the BlackVue C app and take a screenshot of the SSID showed on the BlackVue Wi-Fi login screen.
Send these photos to cs@pittasoft.com who will then issue you a cloud security code if your device is compatible.
Congratulations, you now have access to BlackVue Over the Cloud and are able to use all of the great features that are implemented within it.
At Dash Witness we strive to provide outstanding customer service, we are available by telephone on 01865 598599 or by using our contact form