Description
The BlackVue DR650S-2CH is the latest release (June 2016) from BlackVue, it compromises of separate front and rear facing cameras that record high quality HD footage. The DR650S has all of the same fantastic features of the earlier model but the internal electronics have been improved resulting in lower power consumption resolving issues earlier models had with electrical interference. In theory it'll also mean the camera will run for slightly longer when in parking mode.Overall this is a discreet camera with a solid App that makes adjusting settings and reviewing or downloading footage easy to manage.
Video Resolution and Quality
The BlackVue DR650S-2CH has a full HD 1920 x 1080P resolution that records @ 30FPS and has a 2.4MP Sony EXMOR CMOS sensor, the rear camera records in HD with the resolution being 1280 x 720P that is able to record @ 30FPS this camera has a 1MP CMOS sensor.
The sample video provides an insight into the quality of recording you can expect, this is recorded in 1080p @30fps. Please note, YouTube compression may degrade the video quality, make sure you have selected the highest resolution that YouTube will allow you to watch it back in. This can be selected by clicking on the settings cog when watching the video.
Recording Modes
This dash cam has three recording modes: Normal, Event and parking.

Normal– This is when the camera records constantly as long as the ignition is on
Event– When the G-Sensor detects a significant change, a file will be created that lasts 60s
Parking– When the camera is hardwired into the vehicle it will record when the ignition is switched off
Built-in Features

GPS– You are able to track your vehicles location and speed and also view this as a google map for an accurate account of your vehicles journey.
WiFi– By pairing your smart phone or tablet with the BlackVue DR650S-2CH you are able to live view the camera, review previous recordings and alter the camera settings to your preference.
BlackVue over the cloud
This is a new feature from BlackVue that implements cloud technology allowing your cam to have new and exiting abilities that are not available with other cameras.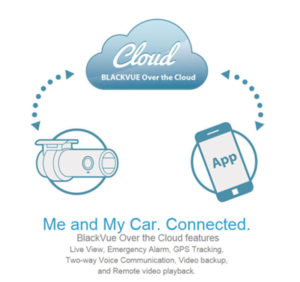 Two-way voice communication– meaning that you are able to talk to someone in the car through the app and your voice will be played through the dash cam.
Video back-up– Your footage is now backed up in the cloud, allowing your footage to be stored securely and allowing easy access to it for yourself if you wish to review the footage.
Alarm Notifications– The app will now send you a notification if the camera detects an event, alerting you instantly to an accident that has occurred.
BlackVue DR650S-2Ch Box Contents
The items below come in every box, along with a users guide and warranty card.
BlackVue DR650S-2Ch Technical Specification
Brand – BlackVue
Model – DR650S-2Ch
Front Camera – Yes, single channel
Second Camera – Yes, single channel
Screen – No
HD/Video Resolution – Front 1920 x 1080P, Rear 1280 x 720P
Video Frame Rate – 30fps
Codec –
File Format – MP4
Video Playback – Via IOS/Android App or PC/Mac Software
Viewing Angle – Diagonal 129°
Sensor – Front Sony EXMOR CMOS Sensor, Rear CMOS Sensor
Internal Mic (Sound Recorded) – Yes, can be muted
Memory Card Included – Yes, 16GB Micro SD Card Class 10
Memory Capacity – 128GB SD Card Class 10
WiFi – Yes
Software – Dash Cam Viewer
Software Compatibility – Windows/Mac
Mobile App – Yes, BlackVue C IOS & Android app
Speed Camera Alerts – No
Removable Camera – Yes
Internal Battery – No
G-Sensor – Yes
Parking Mode – Yes requires hardwire cable
Built in GPS – Yes
GPS Mapping – Yes
Speed Stamp – Yes but only visible via software or app
Auto Event Recording – Yes
Auto start/stop rec – Yes
Date/Time Stamp – Yes
Overwrite Recording – Yes
Manual Recording – Yes
One Touch Formatting – Yes
Tone Alerts – Yes
Spoken Alerts – Yes
Infra Red Night-vision – No
Operating Temperatures – -10° ~ 60°C
Waterproof – No
Dimensions – 115mm (W) x 36mm (D)
Manufacturer Warranty – Dash Cam 1 Year, SD Card 6 Months