Deciding on your budget for a dash cam is not an easy task. You need to consider the features, quality, and long term functionality you will require, while also getting your moneys worth.
Prices for front and rear camera systems can drastically range from £100 – £500, with additional features and quality creeping in as the price goes up. However, you certainly do not need to spend a lot to get a quality dash cam.
Outlined below is what to expect when looking at each price point – budget, mid-range, premium – and whether it is worth paying the extra.
Budget
If you're on a tight budget for your dash camera, look no further than the Thinkware F100, coming in at just £109.99 for the front only version, and £149.99 for front and rear.
This camera proves that you don't need to be spending large amounts in order to get a great product, however, it does lack some key features which many people will want.
Features:
– Recording Quality – 1080p HD front, 720p HD rear
– Parking Mode
– Motion Detection
– Discreet

Along with these, there is an option to add a GPS antenna, enabling optional driver warning systems, and also an optional tamper proof case. The performance of this camera by no means resembles its budget price range, and should definitely be considered when deciding what is best for you.
Although this camera has great video quality for the price, and has parking mode functionality when hard-wired to the battery of the vehicle, it is missing some key features such as built in WiFi, GPS and cloud accessibility. These improve the functionality of a dash camera drastically, so are worth looking into at the higher ranges.
To see the Thinkware F100, click here.
Mid-Range
There are a lot of benefits in going for a mid-range dash cam. With the Thinkware F770-2CH, you get all the desirable features from the Thinkware F100, with a lot of extra functionality for only £239.99.
With Thinkware being a leading providor of dash cameras, the F770 is able to rival many of the more expensive cameras on the market.
Features:
– Recording Quality – 1080p HD front and rear
– Parking Mode
– Motion Detection
– Discreet
– Super Night-Vison Mode
– Built-In GPS & WiFi
– Speed Camera Alerts

As you can see, there are several additional features you get from going up to the Thinkware F770. Built-in GPS and WiFi mean you can connect a smartphone to the camera, enabling you to review and download footage on your phone, and also track the location of your vehicle.
This alone is an incredibly beneficial feature which greatly increases the usability and functionality of the camera, making the jump in price worthwhile to most people.
For a mid-range, reliable camera with great features and a reasonable price tag, the F770 should not be overlooked.
To see the Thinkware F770, click here.
Premium
The BlackVue DR750S-2CH not only has all the features of a premium dash cam, but also looks the part too. Costing £349.99 for front and rear cameras, it has some impressive specs to back up the price.
Unlike other cameras, the DR750S also has the option to become completely silent at all times, making it the best dash cam for driving instructors.
Features
– Recording Quality – 1080p HD front and rear
– Parking Mode
– Motion Detection
– Discreet
– Sony STARVIS Image Sensor
– Built-In GPS & WiFi
– BlackVue Cloud Access

Similarly to the Thinkware F770, this camera records in 1080p HD from both front and rear cams, and has the all-important build-in WiFi and GPS for video and tracking access through your phone. However, the DR750S boasts a Sony STARVIS image sensor, providing clear video in all lighting conditions.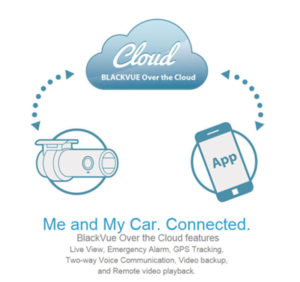 Another key feature of the BlackVue DR750S making it stand out as a premium dash cam is access to the BlackVue Cloud. This allows you to securely store any important video files onto the cloud, making them easily available when required.
You will also receive mobile notifications when the camera detects an event, and you can even take a phone call using the dash cameras built in microphone and speaker.
This is an incredible feature and one which is definitely worth the additional cost if it is going to be something of use to you.
To see the BlackVue DR750S-2CH, click here.
To see our full range of dash cams and installation options, click here.
Alternatively, contact us using the form below or call 01865 599598 to speak to one of our experts.
Error: Contact form not found.