Description
The BlackVue DR750X-2CH is from the latest range of BlackVue cameras. The video quality has been greatly improved with the impressive 2.1MP Sony Starvis Sensor in play on both the front and rear cameras. This means great video recording, day and night. The dash cam has built-in GPS, Wi-Fi and native Parking Mode support via included hardwiring cable.
Video Resolution and Quality
The BlackVue DR750X-2CH has an improved image sensor, the Sony STARVIS, resulting in higher quality videos than ever before. This improved sensor means that the camera records in full HD 3228 x 2142 @60FPS on the front camera and @30fps on the rear camera. Along with the improved video quality and frame rate, the low light and dynamic range of the camera have been improved, allowing your camera to produce an accurate account of any incident.
Recording Modes
The BlackVue DR750X has 4 recording modes and will automatically switch between them based on what is happening around the vehicle.
Normal– The camera will record in this mode once the ignition is switched on and will stay in this mode until an event occurs or the ignition is switched off.
Event– When a significant change is detected by the cameras G-Sensor a 60 second video file will be created.
Parking– When the camera has not detected movement over a 5 minute period it will go into parking mode, only saving videos if an impact or movement is detected.
Manual– If you see an incident such as road rage, dangerous driving or an accident not involving your vehicle you can manually create an event file by using the proximity sensor on the end of the camera. This will then mark the video file as an event allowing you to easily find the footage later.
BlackVue DR750X Recording Times
| | | |
| --- | --- | --- |
| SD Card Capacity | Front and rear | Front only |
| 16GB | 1 Hour | 2 Hours |
| 32GB | 2 Hours | 4 Hours |
| 64GB | 4 Hours | 8 Hours |
| 128GB | 8 Hours | 16 Hours |
Built-in Features
Wi-Fi– By connecting your smart device to the DR750X you are able to view the camera live, change the settings and review previously recorded footage.
GPS– This allows the vehicles location and speed data to be recorded. You can choose to have your vehicles speed data overlaid on the video footage. Using the viewing software you are able to track your vehicles journey accurately with a google map.
BlackVue Over the Cloud
When using BlackVue's Over the Cloud service you can remotely connect to your camera allowing you to live view footage, backup video files, access real-time tracking information and receive emergency notifications, all from your mobile or tablet.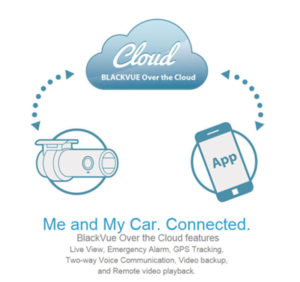 Video back-up– Securely store your important video files by backing them up to the cloud, ensuring the files you need are available to access easily when required.
Two-way voice communication– You are able to have a conversation with someone through the dash cameras in built microphone and speaker.

Mobile Notifications– When you have paired your device with the camera you will receive a notification if the camera detects an event.
BlackVue DR750X-2Ch Box Contents
The items below come in every box, along with a users guide and warranty card.
BlackVue DR750X-2Ch Technical Specification
Brand – BlackVue
Model – DR750X-2Ch
Front Camera – Yes
Second Camera – Yes
Screen – No
Imaging Sensor – Front/Rear Sony STARVIS™ CMOS Sensor (Approx. 2.1MP)
Video Frame Rate – 60fps (Front), 30FPS (Rear)
Video Codec – H.264 (AVC)
Video Playback – Via IOS/Android App or PC/Mac Software
Viewing Angle – Diagonal 139°
Internal Mic (Sound Recorded) – Yes, can be muted
Memory Card Included – Yes, 16GB Micro SD Card Class 10
Memory Capacity – 256GB SD Card Class 10
WiFi – Yes
Software – BlackVue Viewer
Software Compatibility – Windows and Mac
Mobile App – Yes, BlackVue C IOS & Android app
Speed Camera Alerts – No
Removable Camera – Yes
Internal Battery – No
G-Sensor – Yes
Parking Mode – Yes (Power Magic Pro is no longer required)
Built in GPS – Yes
GPS Mapping – Yes
Speed Stamp – Yes but only visible via software or app
Auto Event Recording – Yes
Auto start/stop rec – Yes
Date/Time Stamp – Yes
Overwrite Recording – Yes
Manual Recording – Yes
One Touch Formatting – Yes
Tone Alerts – Yes
Spoken Alerts – Yes
Infra Red Night-vision – No
Operating Temperatures – -10° ~ 70°C
Waterproof – No
Front: W 118.5 mm (4.67″) x H 36 mm (1.42″) /105 g (3.70 oz)
Rear: W 67.4 mm (2.65″) x H 25 mm (0.98″) / 25 g (0.88 oz)
Manufacturer Warranty – Dash Cam 1 Year, SD Card 6 Months