Smart Witness are a pioneer in commercial grade fleet dash cameras and were the first to integrate telematics and 3G enabled hardware into their dash cams. This use of technology provides an effective fleet management tool improving safety, security and reducing costs. Dash Witness are recognised as a key partner to Smart Witness and we recommend their products to all of our commercial fleet customers.
One of the most common enquiries we receive from fleet operators is, "can we have a fleet dash camera that has the ability to not only track vehicles, but also send us footage in the event of an accident?". Our answer is yes, the Smart Witness KP1 provides such a solution. The KP1 is tamper proof, forward facing fleet dash cam, that can incorporate a 3G modem and a data SIM to provide both vehicle tracking, and remote access to the captured video footage.
This is all accessible through a single online portal called Smart View. Smart View provides an intuitive way to track vehicles in real time and notify you of events which include, impact accidents, speeding and even harsh acceleration, braking or turning. It doesn't stop there, once you receive a notification you'll be able to look at a number of still images taken at the time of the event and decide whether or not to request a video file from the fleet dash cam.
Smart View Portal
The map screen above provides an overview of each vehicles locations and automatically refreshes every 30 seconds, zooming to include all the vehicles. Each vehicle that has been active in the current 24-hour period is displayed on the left hand column with an icon representing the current status.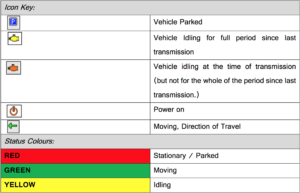 This provides a quick way to see if a specific vehicle has been active, or if it's currently moving, idling or parked. Vehicles that have not been active for the last 24 hours are displayed in the right hand column and will display the date and time they were last in use.
Postcode Search
There are a few additional features on this screen, the most useful is probably the ability to enter a postcode and then locate the nearest vehicle, this is great if you need to quickly redirect drivers to a new location.
Or Alternatively, you can select to perform a historical postcode search and enter a date/time frame to find out if a vehicle was in that area at the time specified. This can be beneficial if you're dealing with a complaint from a customer, or member of the public, and need proof of a vehicle's location.
On top of this you can also check a box to display the level of traffic which provides a colour overlay on top of the roads. Red meaning very heavy traffic, and black meaning avoid at all cost. If it's green, you are good to go.
A Vehicles Route
If you want to see a detailed picture of the route a specific vehicle has taken, you can do so by finding it listed in the left hand column and clicking on the blue steering wheel icon.
This will move you through to the vehicle "Activity" tab, here you will see an overview of the day's journey with each individual 30 second update reported in the form of an icon. You can quickly see if there have been any event triggers, any of interest are represented by a camera icon. A summary box is shown in the top left of the window and provides detail on max. speed, average speed, distance covered and number of times the camera has detected harsh braking, harsh turning, harsh acceleration and shock impacts.
Requesting Video
If you find an event and click on the camera icon you will be shown a series of still images that represent that point in time, this is a handy way to quickly preview the incident and decide if further investigation is required. If it is, you can then choose "Request Video" from above the listed log of movement and send a direct message to the camera, asking for a 20 second video clip.
Once this has been submitted you will need to wait for the camera to respond, if it is on and active this usually only takes a coupe of minutes. If the vehicle is off, and the camera has shutdown, the message will be queued and your request will be fulfilled the next time the ignition is switched on.
We would always recommend fitting this fleet dash camera with the KP1-INT1-S battery hardwire kit, it allows the camera to stay on after the ignition has been switched off. The cameras will stay on until the voltage in the vehicle has dropped by 1 volt, this is generally 1-2 hours in cars & vans but can vary considerably depending on battery size, health and how far/often the vehicle is driven.
Once the video clip has been sent through to the server it is stored and accessible for 100 days, this is the same for all tracking information and the still images.
Other Features
There are many other features that we haven't explored in this article, here is a quick summary of some of the more useful ones:
Reports – You can run reports based on date/time for all vehicles, or individual vehicles, so you can see a detailed picture of the distance and time the vehicles have travelled.
Driver Behaviour – The portal has a page that will track and grade drivers in comparison to each other. Over time this provides a useful insight into who the more effective drivers are, and where additional training may be required.
Geo-fencing – You can set areas and alerts, this will notify you each time a vehicle enters or exits said area.
Depots/Sites – Depots and sites can be used to create further alerts, reports and show where vehicles are in relation to specific sites.
Map/Dashboard – There is an option to display the map full screen so it can be shown on a monitor in the office. Likewise a dashboard can be shown to alert you to events as they take place.
Fleet Dash Cam Benefits
This is an extremely powerful tool for a fleet manager, many of our customers benefit from this technology. One of the positive pieces of feedback that we hear time again, is the speed in which it allows you to process and deal with an incident. Whether it is an accident, driver behaviour, customer enquiry or general operations improvement. All the information you need is laid out in one clean and accessible portal ready to be actioned. In the event of an accident, it isn't unusual for the fleet manager to be able to download, review and then send the footage onto the insurer, or relevant party, before the vehicle in question has even made it back to the depot.
The cost savings in time alone will pay for this equipment. However, on top of this, you'll also see driver improvement, which can result in immediate fuel savings especially in larger HGVs. Additionally, a reduced number of accidents and minor knocks are likely because the driver is aware of the camera and is accountable for his/hers actions. As a result, this will help to lower premiums and reduce maintenance costs. But it's not all about preventing poor driver behaviour, in fact most professional drivers are just that, professional and safe. For those drivers, dash cameras offer added protection and will protect and prove their innocence if something goes wrong.
Learn More
If you're interested in a demonstration of this fleet dash cam, or would like a quote or more information on the Smart Witness KP1, get in touch now using 01865 598599, or the form below. We're an active bunch and will usually get back to you within a few hours.
Error: Contact form not found.